Join our family and find out how socialization, speech and occupational development can be acquired through our program!
Learn More
Every hour and smile given by our volunteers makes one more magical moment possible.  See how you can make a difference!
Learn More
Whether your a local business or a member of the community, your helping hand can make a WORLD of difference in the lives of everyone at Ready Set Ride with the smallest of donations.
Find out how
Since 2001, Ready Set Ride Therapeutic Recreation Facility has been assisting children with special needs by providing horseback riding services.
Located in Plainfield Illinois, students as young as three years of age come from all over the Chicagoland area. Ready Set Ride bases its program on developmental techniques utilizing the horses as a means of mobility for the children. Certified therapeutic riding instructors guide the students and closely monitor individual needs to encourage consistent improvement. Therapy is conducted in the form of games on horseback which incorporate physical, speech, occupational, developmental and recreational therapy.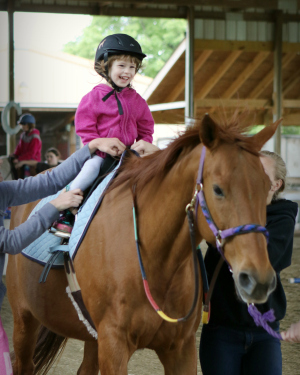 Become a Part of it all
Whether you're interested in riding, volunteering or donating to Ready Set Ride, we want you to know that every single person riding, hour given or dollar donated makes you a critical part of our program!  Find out what others are saying after their experiences at RSR!