Join our family and find out how socialization, speech and occupational development can be acquired through our program!
Learn More
Every hour and smile given by our volunteers makes one more magical moment possible.  See how you can make a difference!
Learn More
Whether your a local business or a member of the community, your helping hand can make a WORLD of difference in the lives of everyone at Ready Set Ride with the smallest of donations.
Find out how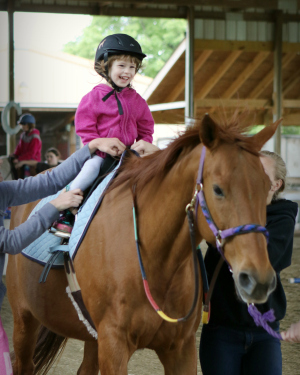 Want to see what we're all about?
Our community is part of why we have been around for so long.  Without the support from local businesses, the Villages of our surrounding neighborhoods and all the friends and family we wouldn't be able to operate and do all that we do.  One of our very own community members, Anthony from Caponeyboy Productions is the perfect example.  He took the time to come out to the barn, see what we are all about and produce this piece for us!
Become a Part of it all
Whether you're interested in riding, volunteering or donating to Ready Set Ride, we want you to know that every single person riding, hour given or dollar donated makes you a critical part of our program!  Find out what others are saying after their experiences at RSR!